ClearSale BigCommerce
Installation Guide

Our BigCommerce App is designed to connect your shop to the ClearSale analysis center and provides your BigCommerce admin with a full dashboard to monitor our decisions. We will guide you through 3 simple steps to add ClearSale to your BigCommerce store.
Before you install the ClearSale App, please make sure that you have your ClearSale credentials nearby.
If you need any help installing our App, please contact us at integration@clear.sale.
Get ClearSale from the
BigCommmerce Marketplace
1
Install the ClearSale App from the BigCommerce Marketplace
click the "Get this App" button and follow the steps to log into your BigCommerce store.

Enter your credentials
2
Navigate to your installed Apps to find ClearSale. Click on ClearSale to enter your API Key, Client ID and Client Secret.
Select your environment
3
You can test ClearSale first by selecting Sandbox (A sandbox is an isolated testing environment) or go live right away by selecting Production: this is the environment you want for analyzing real orders!
Choose your option and then Save.
**NOTE**Orders sent to our Sandbox environment won't be analyzed by ClearSale.
Optional step
Enable Passive Mode: When enabled, our App won't automatically update the order status after an order has been reviewed.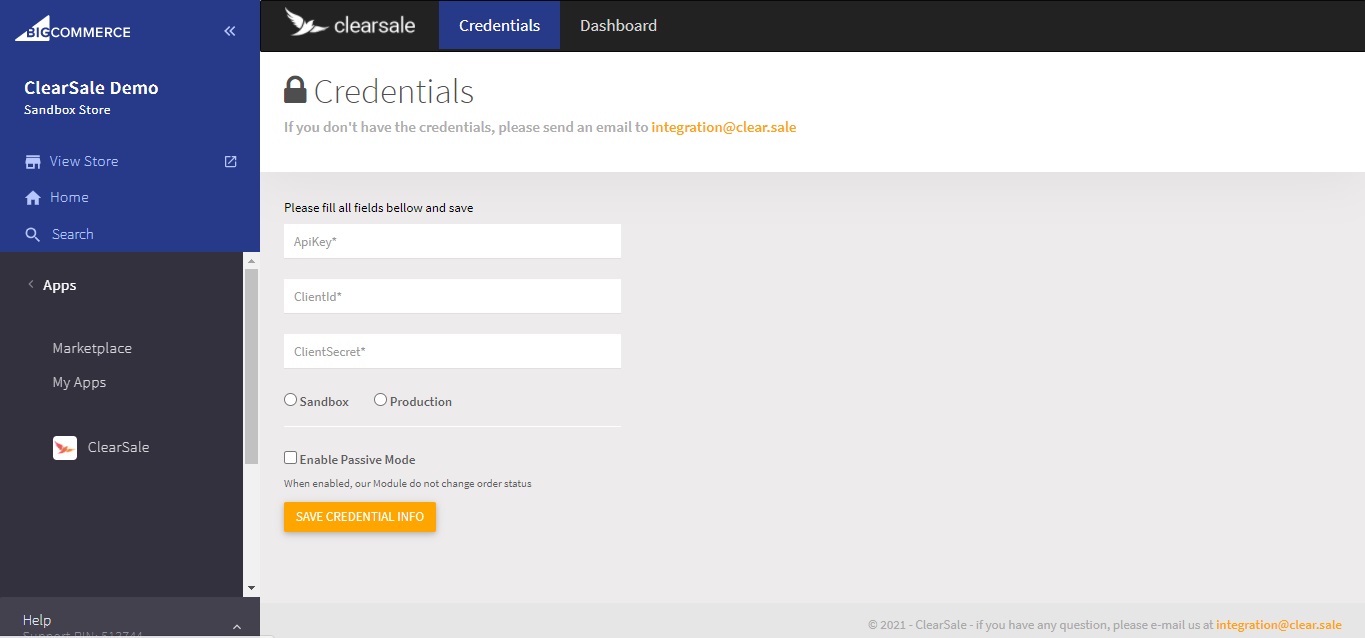 General Flow
In order to have our App analyze orders as designed, your store's workflow must set all new orders to the status of "Awaiting Fulfillment".
ClearSale will automatically analyze all new orders that are "Awaiting Fulfillment". If we are reviewing an order, the status will change to "Manual Verification Required".
Do not fulfil these orders until a final decision has been reached by our team.
Depending on the decision, the order will automatically update to one of the following statuses:
"Declined" if it was found to be risky or
Back to the status of "Awaiting Fulfillment" if it was Approved.
If you have a special flow or would prefer a different configuration of statuses, feel fell free to contact us and we can change it to better fit your store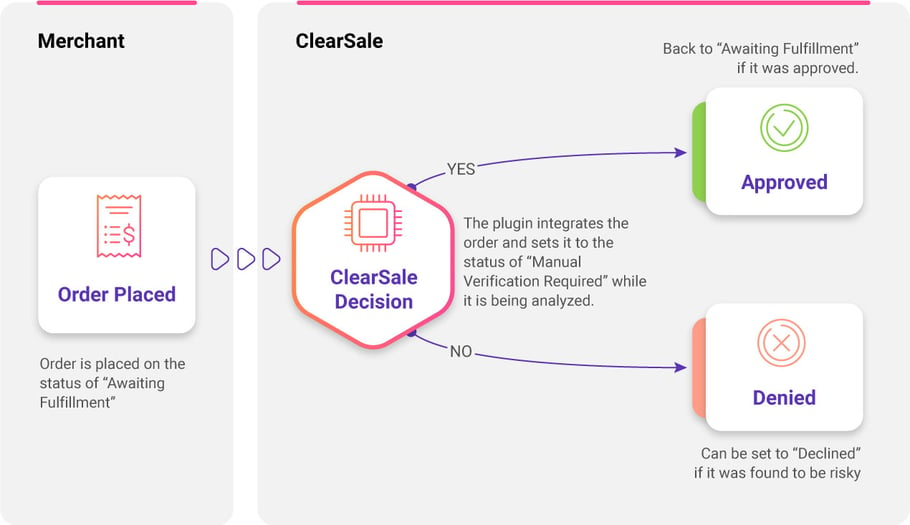 Additional note: If you run into any issues with the App, please try another browser and reach out to our integration team to let us know.