First Step
Download the ClearSale Plugin:
Download Here
In your plugins section of your WooCommerce Admin Page, add the file you downloaded.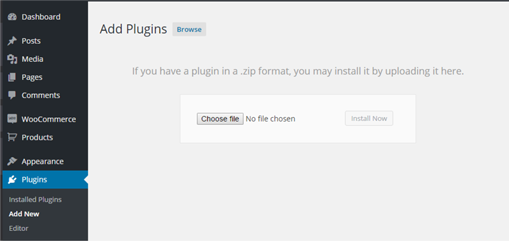 Third Step
In the ClearSale Plugin settings page you should fill your information and set your preferences.
Insert the credentials you received from ClearSale
Select the payment methods you want ClearSale to analyze
Select the WooCommerce's statuses that you want that ClearSale to use when Passive Mode is not enabled
In this section you can:

Select the environment: Test option will send orders to our sandbox server and this is commonly used by developers. The Production option will send orders to our production server.
Enabling Passive Mode will prevent ClearSale to change orders's statuses.